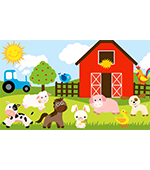 Quiz of Animals
for Apple Tv
+ Added Preview App
+ Fixed minor bugs
+ 3 Chapter: Farm, Forest and Safari
+ 27 animals
+ Timed Quiz
+ Random functionality
+ Background Music
+ Current rating
+ Highest Score Achieved
Quiz of Animals
Quiz of Animals is a nice educational game for children.

Choose between three categories: farm, forest or safari and start having fun.
Become increasingly faster at guessing the animal that you see. At the end of the game you will always have your score.
The game is suitable for children from 6 years and older.
Features

3 Chapter: Farm, Forest and Safari
27 animals
Timed Quiz
Random functionality
Background Music
Current rating
Highest Score Achieved
Supported languages
English, Italian, Spanish, French and German.